You spend a lot of time and energy making sure your smartphone, smartwatch, and wireless buds are charged and ready to go. And while this chore has become somewhat second nature over the years, spending time finding outlets and sharing cables for all your devices has become a bit time consuming, and quite frankly, super annoying. 
If you could use a little convenience and simplicity in your life, look no further than this 4-in-1 Charging Station. Compatible with many of your iPhone and Samsung Galaxy essentials, this multi-functional dock ensures all your gizmos and gadgets sport full batteries without ever having to plug in a single thing. That's right, this charging station is completely wireless.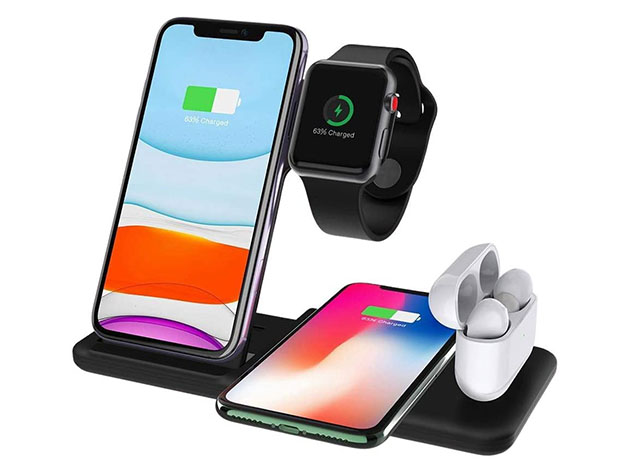 Boasting the latest Qi-Certified Fast Charge® technology, the 4-in-1 charging dock delivers lightning-speed charging times, juicing up your devices up to 40% faster than traditional chargers. And don't worry about whether or not it's safe to charge multiple gadgets at a time. Thanks to its eco-friendly, auto shut off feature, this charger features both overvoltage and overcharge protection to keep all your expensive gadgets in great condition. 
Whether you're tired of dealing with tangled wires or simply want to minimize clutter on your desk, nightstand, or countertop, this multi-functional charging dock is a total game-changer. And thanks to its modern, sleek design, it looks good just about anywhere you put it.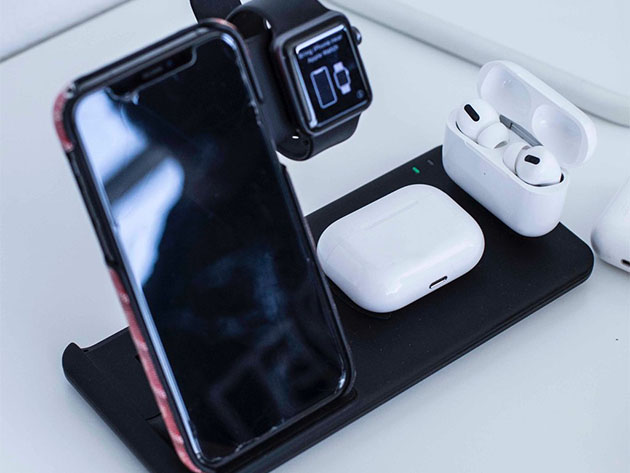 Unlike other wireless chargers out there, this thing can charge almost all of your smart gadgets, including most wireless earbud cases, smartwatches, and even two phones at a time — with or without their cases. In fact, you can even watch your favorite streaming content on your phone as it charges, making this dock more convenient than ever.
For a limited time, you can snag this must-have 4-in-1 Wireless Charging Station at almost 10% off, making it just $40.99. 
Prices subject to change.